PRICES:
YACHT WITH CAPTAIN & CREW-COOK:
Divide prices listed below by the number of people in your charter party to figure per-person cost. Prices listed below include yacht, captain, crew/cook, V.A.T., and items listed below.
For maximum personal space: 4 guests is ideal. Maximum number of guests: 6
7 Days
€5,989 (euros)
Per-person cost w/4 guests €1,497 per week
Per-person cost w/6 guests €998 per week
10 Days
€8,556 

(euros)

Per-person cost w/4 guests €2,139 per week
Per-person cost w/6 guests €1,426 per week
14 Days
€11,978 

(euros)

Per-person cost w/4 guests €2,994

 

per week
Per-person cost w/6 guests €1,996

 

per week
Notes: Charters of less than one week are accepted, schedule permitting
Skipper-only charters available by request (see "Yacht With Captain Only" below).
Prices include:
Yacht, captain, crew/cook, V.A.T. (tax), harbor & water fees, all linens & beach towels (1 set per week), SUP (paddleboard) use, dinghy & outboard for transport when needed; operated by captain only, cleaning fees.
Not included:
Fuel: Fuel is payable in euros at charter's end; amount depends on how much fuel is used during the charter; average cost is 50-70 euros per day FOR THE WHOLE BOAT (not per person) depending on wind and mileage. Average fuel cost per person for one week, with 6 guests, is about €58.
Provisions: Payable in euros, on boarding. Provisions are bought according to your preferences and are on the boat when you arrive. The cost depends on items ordered. Average food/drink cost per person for one week is €100 or less.
Delivery fees: For charters starting or finishing in locales other than the boat's base near Athens. Fee: €3.50 per mile, added to cost of charter.
Your Crew:
Kostas Ghiokas and his wife, Lynda Childress, have been sailing together since 1997; professionally as captain/crew/cook since 2000. Kostas is a native Greek, hailing from the Athens suburb of Glyfada. He is a naval architect, was an Olympic-class dinghy (Finn class) sailor, is an RYA-licensed Yacht Master, and has been sailing the Aegean and beyond as a professional skipper for 40 years. Lynda is American, grew up sailing in Newport, Rhode Island, and was managing editor of Cruising World Magazine for 15 years before meeting and marrying Kostas and moving to Greece. Currently she is a CW Contributing Editor and edits its popular "People & Food" column. She also is a regular contributor to other yachting publications. They share a passion for sailing, cooking, eating good food, and fun!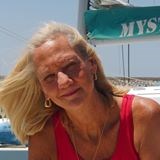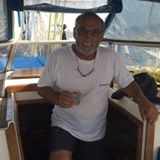 Equipment Down Below:
Propane stove/oven, microwave oven, 2 refrigerators, cabin air conditioning (used if shore power is available), CD player with PED port (bring your own connecting cable), television/DVD.
Special Features:
Roomy saloon, nav station with VHF, autopilot, wind instruments, radar, GPS, chart plotter. Four guest cabins with double berths; one crew cabin forward with upper/lower berths. Each cabin has its own toilet/shower. Saloon has optional AC if shore power is available. Stereo/CD/tape player with PED hookup and saloon and cockpit speakers, TV/DVD player, PED port (bring your own connecting cable). Roomy galley with 2 fridges and microwave (no freezer). Large cockpit can seat 6 comfortably, with soft cockpit cushions; plus fore-and-aft sunbeds for lounging, cockpit fridge, onboard grill, Bimini, full sun awning, spray hood. Teak deck, teak toerails and trim, fresh water stern shower, stern swim platform and swim ladder, sturdy gangway with handrail for boarding and disembarking, snorkels, standup paddleboard, RIB (rigid inflatable boat) with outboard for transport only, as needed, operated by captain only.
Food & Drink Onboard (Provisions):
Breakfast and lunch, snacks, and drinks are served aboard daily. Provisions are not included in the boat price. You will be asked to fill out Food Preference Sheets before your charter; Lynda will design menus and buy the food and drink you prefer during your charter and all will be aboard, stowed, and chilled down when you first board. Payment is due IN EUROS on boarding. This includes staples that will last for the whole trip plus continental breakfasts, lunches, beverages and snacks for 4 or more days. Any provisions needed for the duration of each trip are purchased as needed by Lynda in the islands; payment for this is collected at trip's end. Estimated cost PER PERSON for one week is roughly 100 euros maximum; often less. Receipts provided on request.
. Lynda prepares delicious cooked Greek lunches or creative sandwiches and a large, varied salad each day for lunch. The focus is fresh, healthy Mediterranean cuisine. Continental breakfast and lunch are prepared onboard; dinners are eaten ashore at inexpensive local tavernas in the evening. Menus are designed by Lynda prior to the charter based on clients' food preferences, using primarily local ingredients that are fresh, local, and in-season.
Yacht With Captain Only:
ONE WEEK: €4,861. Price includes yacht, captain, and V.A.T. (tax).
Harbor and water fees are NOT INCLUDED on captain-only charters. To charter the yacht with skipper only, at least ONE person in your party should have either a recognized sailing license or enough boating/sailing experience (or be physically fit enough) to act as "crew" and be willing to sign a notarized declaration of qualifications if necessary. You are responsible for provisioning (buying food and drink) for the charter yourself. Food and fuel are not included in the price.